Potter's Alley Hours
Monday – Wednesday:  4pm – 9pm
Thursday & Friday:  11am – 9pm
Saturday: 11am – 10pm
Sunday: Noon – 5pm
Limited open bowling lane availability due to leagues on the following days/times:
Mondays from 5pm to 7pm starting January 23rd
Tuesdays after 5pm starting September 13th
Wednesdays after 5pm starting January 11th
Please check our website's scrolling message bar for updates on open bowling availability for the current week. We host tournaments and traveling leagues throughout the bowling season which can result in limited open bowling lane availability. Call the Alley at 309-266-7010 to inquire about lane availability.
Open Bowling Rates
Shoe Rental: $3.00 per person
Bowlers 16 and younger: Always $2.00 per game
Bowlers 17 and older:
Monday through Saturday: $4.00 per game
Sunday (FUNday): Everyone bowls for $2.00 per game
Lane Reservations – How do they work?
Lane reservations can be made by calling the Alley at 309-266-7010. We are no longer taking lane reservations via email or FB Messenger.
Potter's Alley makes a select number of lanes available for reservation. The majority of our bowling lanes are for walk-in guests.
Lanes are allocated based on the number of bowlers.  As lane space in our facility is limited, we cannot accommodate requests to spread out bowling groups at less than 6 bowlers per lane.
Lane reservations are held for 15 minutes past the lane reservation time and then released to walk-in bowlers.  Most nights we are sold out – if your party is running late or your party's headcount changes, please give us a call.
Friendly Reminders
Our lanes have manual bumpers, so they do not go up and down between bowlers.
Bowling shoes are required for all bowlers. We have rental shoes from toddler size 8 to men's size 16.
Bowlers should never cross the foul line. All bowling lanes are coated in a special oil which makes the surface slippery. If a ball is stuck on a lane, please let a Potter's Alley Crew Member know.
We cannot guarantee which lane your group is placed on.  Groups of bowlers are assigned to lanes based on current lane availability and the amount of seating required for each lane.
Outside food and beverages are not allowed in our facility.
Why Choose Potter's Alley?
Here at Potter's Alley, we invite young and old to come bowl with us, grab a bite to eat, or join an adult or youth league. There are many reasons to love us: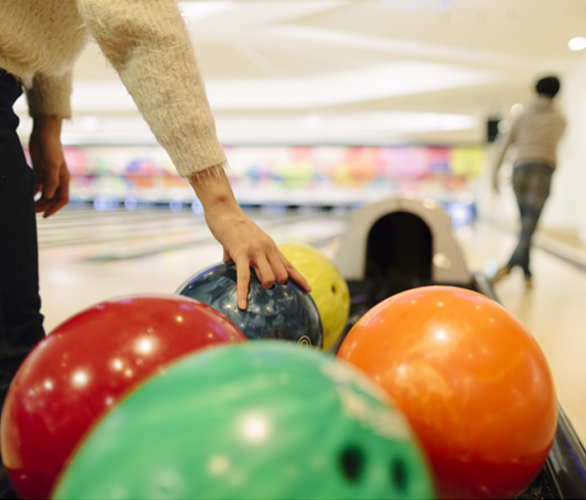 Affordable open bowling
Family-friendly atmosphere
Youth bowling
League bowling
Private parties and events
Full-service bar and grill
Affordable birthday party packages
Fundraisers
Plus, we offer a clean, safe facility featuring the latest scoring technology – Brunswick SYNC! We invite everyone to come check us out!
Contact Potter's Alley for Open Bowling
To learn more about our open bowling times, contact us at 309-266-7010. We are conveniently located at 628 W David Street in Morton, IL.